The air conditioning in the hot weather room can't satisfy us. At this time, of course, we invite some good friends to swim in the pool. I want to recommend some super beautiful swimwear today, whether it is to go swimming or go to the beach to play.
Lace one-piece waist swimsuit
If you have an enviable little waist, then you must make your own advantage. It is a good choice to choose a lace swimsuit. The one-piece swimsuit sloping shoulders are very individual in design, and the shoulder and neck lines are also decorated with a little bit of sexy. The lace neckline just happens to the chest position, adding a sense of layering, giving a big breasted feeling visually. The flat chest girl can choose oh~ the large hollow design of the waist position, let you sexyly reveal your own small waist, and the style of the body is closed. Tight body, even a little belly can not be seen. Suitable for girls with small waists~
French sleeveless skirt swimsuit
If you are on vacation with a friend, you can choose a swimsuit with a very French style. I personally love it. This swimsuit has a black color with a strong French style. It is extremely thin, and the micro fat girl can also choose. ~ The design of the shoulder is matched with the hollow of the back, which perfectly shows your shoulder and neck lines, which is simple and has its own characteristics. The layered skirt is designed to the thigh position, which can cover the thighs of your flesh. The style is conservative and has its own characteristics, suitable for most girls' bodies~
Puff sleeve fairy sleek swimsuit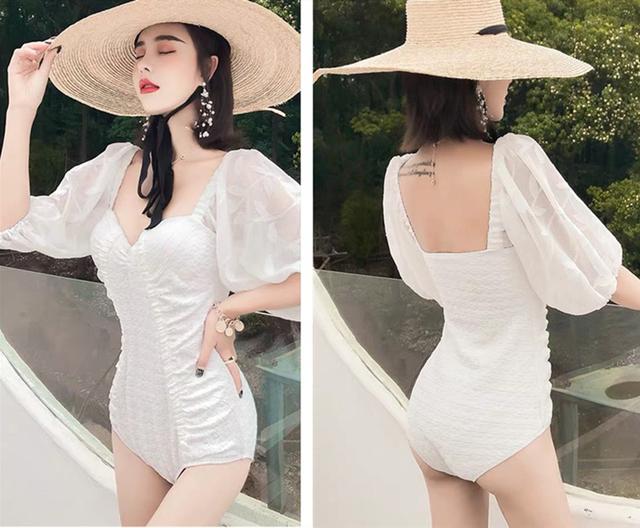 Many girls will want to show their goddess side when they want to play. Choosing a one-piece swimsuit with a puff sleeve is also a good choice. The large U-shaped collar of this one-piece swimsuit perfectly shows your good figure, stitching the design of chiffon puff sleeves, covering the arm and covering the arm. Xiaobian thinks that the slightly fat girl chooses this swimsuit to look better. The one-piece design, the micro-wrinkled fabric gathers the waist and hips, stretches the body line, even if you go to the beach for the day before, the choice of a one-piece swimsuit will make your little belly invisible.
One-shoulder girl bikini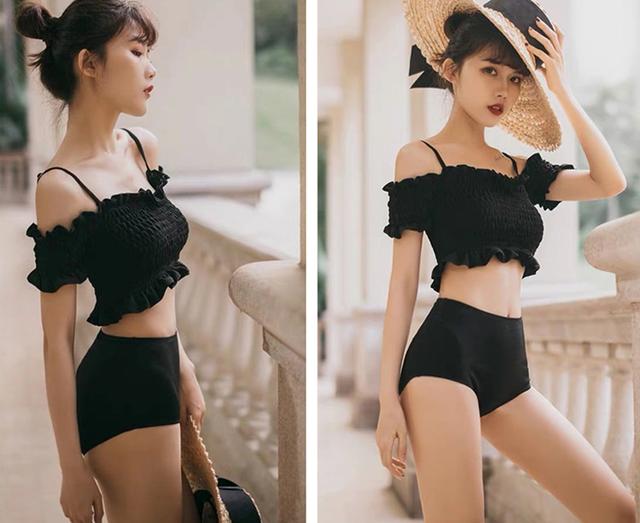 What if you want to wear a sexy bikini and don't dare to be too bold? This swimsuit is for you. The upper part of this swimsuit is designed with a short shoulder and a short design. The pleated fabric has a design sense, generously revealing the neckline and your waistline, and the black triangle bottoms with the lower body are waist and hips. Fresh and playful. If you want to show sexy but don't dare to wear too much, choose this one~
Orange lace one-piece swimsuit
Summer is a vibrant season and of course you need a bright-colored swimsuit. This orange lace swimsuit will make you feel conspicuous. The lace design of the chest position adds a sense of design, so that the little chest girl can also have the visual sense of the big chest, the simple version has no extra pattern, and the solid color system can make you bright enough on the beach. The white-skinned girl can put a few oranges on the white horse. If you don't know what swimsuit to take on vacation, choose a bright-colored swimsuit that will not go wrong~
Personalized one-piece swimsuit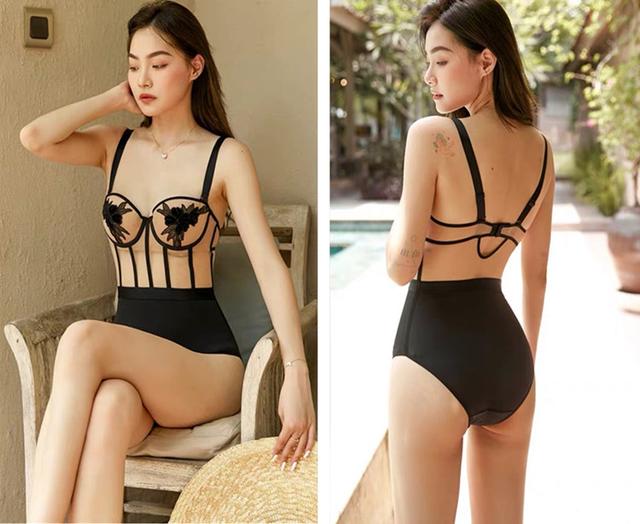 I personally like the one-piece swimsuit. This very unique one-piece swimsuit. The flesh-colored background and black pattern stripes make this swimsuit reveal a self-evident sexy, with a black high-waisted bottom with a waist and hips, tightening the lower abdomen, so that your good body is generous. When you come out, choose an uncommon one-piece swimsuit, you must be super-looking~